CATEGORIES
WRMPB
Royal Mail Post Box - ER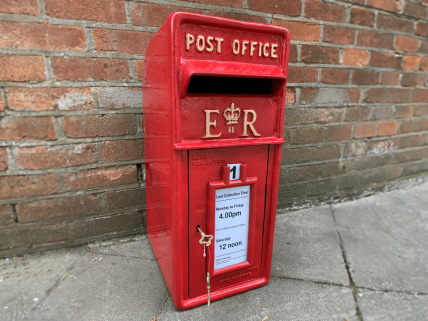 Sold Out
This stunning cast iron replica Royal Mail post box comes finished in hand-painted red. Constructed from a combination of cast iron & pressed steel, the post box benefits from a sturdy and durable feel.
This iconic design dates back to 1896, when these smaller "lamp boxes" were introduced to supplement the larger traditional pillar boxes. The design was originally intended to be mounted on street lamps, but can also be mounted on poles or embedded in walls.
The post box is finished in traditional bright red with gold "Post Office" lettering. It also features the customary Latin initials of the reigning Monarch at the time (Queen Elizabeth in this case).
The post box comes complete with a "hooded" aperture mail slot, a working front door and secure lock and key. An immensely popular item which always sells quickly.
*Note - This postbox features a new bolted construction design, which fixes the problems with paint flaking and transit damage sometimes experienced with the old version.
H: 60 cm
W: 25 cm
D: 37 cm
Weight: 17.00kg
Free Delivery Available on Orders Above £1,300+ VAT
Otherwise: Economy £60+ VAT * per pallet Mainland UK · | Next Day £70+ VAT * per pallet Mainland UK